9.25.21
Good Evening! Just an update from an email I received a few days ago. This is for romance writers, veteran, amatures, etc. This is a sponsored message from The Writer.
Credit source: email, The Writer sponsored message
Sponsored Message
ProWritingAid Presents: Romance Writers' Week Are you ready to fall in love with writing romance?ProWritingAid will be hosting Romance Writers' Week in October. You'll join hundreds of other romance writers to learn what makes a romance novel swoon-worthy. Whether you're writing contemporary, paranormal, historical, or speculative romance (or something in-between), you'll find practical, actionable sessions to help you plan, write, and market your story.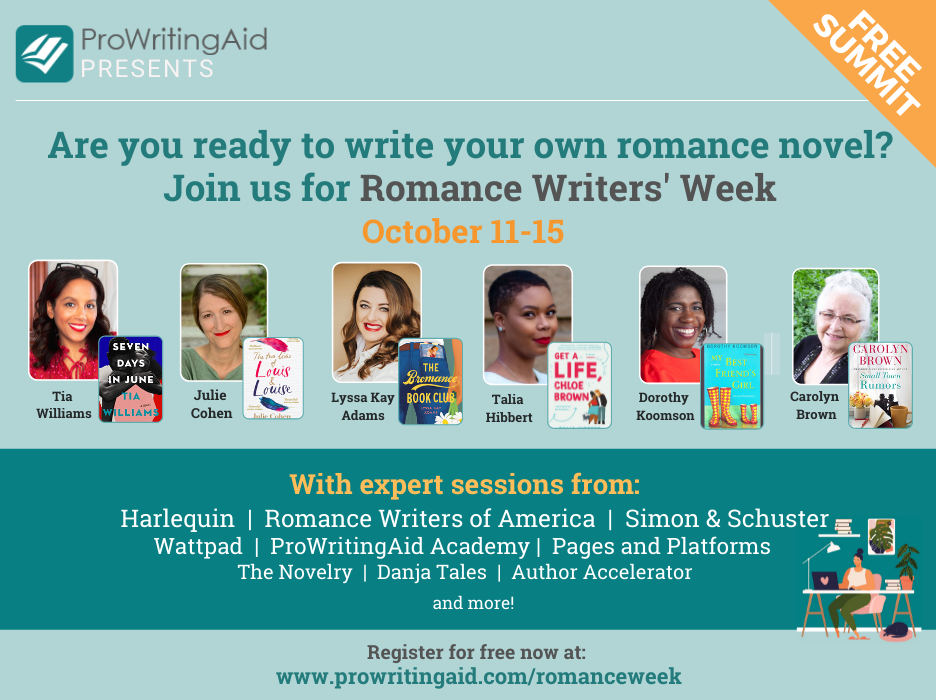 Romance Writers' Week is jam-packed with events for romance authors. Learn from bestselling authors like Tia Williams, Talia Hibbert, Carolyn Brown, and Lyssa Kay Adams, as well as industry experts from Harlequin, Simon and Schuster, Romance Writers of America, and more. As a Romance Writers' Week participant, you get access to:
Training, workshops, and Q&As specifically curated for romance writers
Daily networking events where you can meet other like-minded writers
Our dedicated closed Facebook group, just for Romance Writers' Week participants
And it's free to register!

Save your seat now





Click here to enlarge this image

Live Interviews With Bestselling Authors Some of the best romance authors in the world have agreed to come and let us interrogate them—live! We'll be asking them about how they create compelling characters, sizzling scenes, complex relationships, and satisfying happy-ever-afters. Find out what they wish they had known when they started out.
You'll learn from:
Lyssa Kay Adams (The Bromance Book Club)
Carolyn Brown (Small Town Rumors)
Julie Cohen (Together)
Elaine Everest (The Woolworths Girls)
Talia Hibbert (Get a Life, Chloe Brown)
Milly Johnson (A Spring Affair)
Dorothy Koomson (My Best Friend's Girl)
Camille Perri (The Assistants)
Tia Williams (Seven Days in June)
Kristen Zimmer (The Gravity Between Us)

You'll be invited to submit questions in advance, so get thinking about what you would like to know.

Build Your Skills With Expert Training Sessions
You will come away from Romance Writers' Week armed with a ton of new skills. We've invited some of the top experts in our industry to come and share their knowledge with you.

These are just some of the sessions you can expect:
The Secrets of The Romance Genre, presented by Anne Hawley and Rachelle Ramirez
The Inside Outline, presented by Jennie Nash
Your Five Plotting Non-Negotiables, presented by Dana Pittman
The Three Elements of Electric Love Stories: Mind, Body, and Heart, presented by Mary Adkins
Copyright Law for Writers, presented by Literary Lawyer, Bob Pimm
Romance and a Sense of Place, presented by Louise Dean
The Indie Author's Guide to Indie Editors, presented by Jen Graybeal
Your Romance Editing Roadmap, presented by Hayley Milliman
How to Perform a Story Edit, presented by Kristina Stanley
Marketing Your Romance Novel, presented by Sue Campbell
Power Up Your Book Marketing Strategy, presented by Siera London and more!


Learn From Romance Industry Insiders
The world of publishing can be confusing and overwhelming. That's why we have arranged panels with some of the top organizations in romance.

Learn insider tips at panel discussions with the teams from:
Simon and Schuster, with Molly Crawford and Clare Hey.
Harlequin, with Marcella Bell, Carol Dunsmore, Katie Frey, and Sera Taíno.
Romance Writers of America, with LaQuette, Clair Brett, Kenya Goree-Bell, Siera London, C. Chilove, and Laura Alford.

Find Like-Minded Romance Writers
Writing can be a lonely endeavor. It's easier if you have a crew of like-minded writers to support you, inspire you, and hold you accountable. At Romance Writers' Week, you'll find:
Daily networking events to get to know your fellow writers, and
A closed Facebook group to share ideas and get feedback

Whether you are just playing with an initial idea or already have a romance manuscript ready to sell, there will be a session for you.

See you there!


Sign up for Romance Writers' Week now
If your interested, please read and click on the links above to the information you need to register. Enjoy the rest of your weekend, be safe, healthy, and blessed.
Featured and other images: The Writer sponsored message & Pexel