5.21.2020
Good Morning again…just two more things to drop on you. This was brought to my attention, first, we have SeeMe's Art Saves Humanity event and then the feature artist deadline from Artsy Shark.
---
Credit source: SeeMe
ART SAVES HUMANITY
LIVE
EXHIBITION & EVENTS to BENEFIT ARTISTS
SAVE THE DATE:
MAY 21st
5 – 7 pm US est
Stay up-to-date on Exhibition Events & Special Programming
MAY 21 2020
WE ASKED ARTISTS TO SHARE THEIR PERSPECTIVE ON THE HUMAN CONDITION
& ART THAT INSPIRES COURAGE, HOPE, PROVOCATION & ACTION
Proceeds from Art Saves Humanity
will provide seed money for the
Arts Saves Humanity Relief Fund
to support emergent artists via grants, working spaces, group exhibitions, and resources
– Talks, Trends, Performance, & more –
Curated by our panel of renowned art world advocates & entrepreneurs: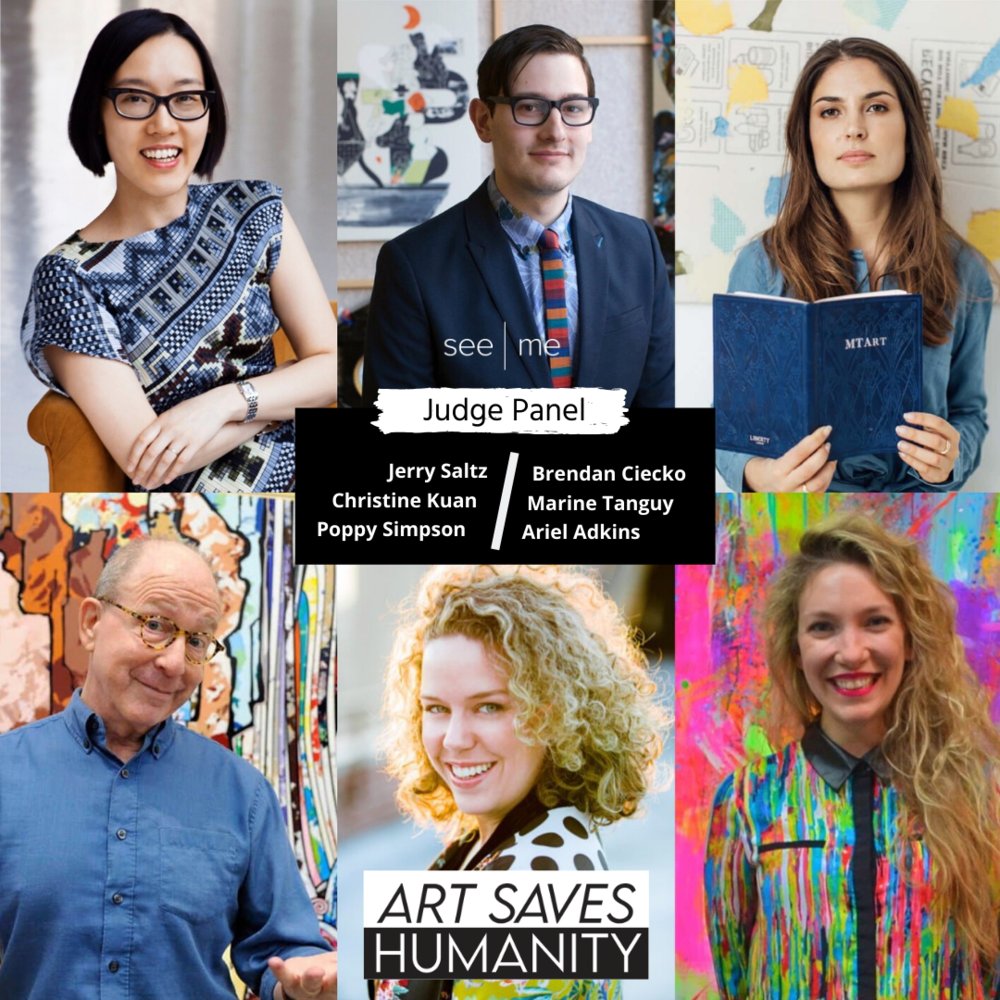 – Jerry Saltz, critic at New York Magazine
– Marine Tanguy, CEO/founder at MT Art Agency
– Ariel Adkins, curator at Twitter
– Poppy Simpson, curatorial leader at Meural
– Brendan Ciecko, CEO/founder at Cuseum
—— LIVE EVENTS BEGIN MAY 21st ——-
At SeeMe, our mission is the pursuit of yin and yang in the Art World. Simply put, we want to help artists make great art and be discovered and help art enthusiasts and collectors identify and support new and emerging artists. Put together we are an exclusive international community of creatives and art lovers locked together in the pursuit of great art.
Since 2012, See.Me has hosted dozens of exhibitions from New York City to Miami to The White House to The Louvre in Paris. Over the years we have distributed over $1.5 million in artist grants and awards. We exist to help artists gain recognition and feedback for their work and connect them with economic opportunity.
---
Credit source: Artsy Shark
Call for Artists
Last Chance to Apply
Deadline is midnight May 21, 2020
You still have time before the deadline, if your still interested, click on the link above!
Enjoy the rest of your Thursday, be safe, be healthy, be blessed.
Featured and other images: Twitter & unknown