11.18.19
Hello again…
Shadow Spotlight Week, featuring Native Americans in the creative fields. I have found about several Native American artists that are making their mark in the present. 
Nicholas Galanin
As an artist, Nicholas Galanin has utilized a wide range of tools and techniques and tapped into influences from conceptual art, pop culture, indigenous philosophy, protest, and his Tlingit and Unangax̂ (Aleut) ancestry. Born in Sitka, Alaska, the artist's work is often characterized as a fusion of elements found along a continuum between tradition and contemporaneity: he's modified an AR-15 rifle with Tlingit hand-engraving, carved walnut, and a hand-sewn sea otter strap; a photomontage pairs a 1906 Edward Curtis image of a young Hopi-Tewa woman with a photo of Carrie Fisher as Star Wars's Princess Leia; a taxidermied polar bear rug is clad in an American flag; his music, created as part of the trio Indian Agent (with Otis Calvin III and Zak Dylan Wass) melds hip-hop, experimental, and electronic sounds with stories and sensibilities from its members' Indigenous, African, and European backgrounds. But it's a premise he rejects: the "tradition versus contemporary" binary, he argues, is more about settler pain than about his own reality as an indigenous person, artist or otherwise, living today. 

From walkerart.org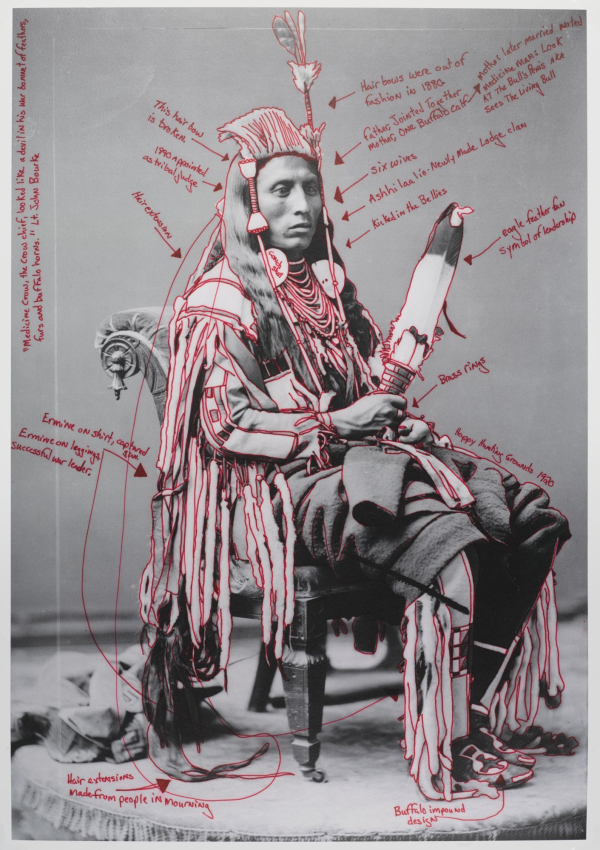 Wendy Red Star
Growing up on the Apsáalooke (Crow) reservation in Montana, Wendy Red Star was immersed in Crow culture and art. Her father was a rock musician, her uncle was a painter, and her grandmother sewed traditional Apsáalooke regalia and beadwork. When reflecting on her childhood, Red Star said that although the reservation may have been poor economically, "culturally, I grew up very rich." 

Today, Red Star explores her cultural heritage and the role of Native women through a variety of media, including photography, sculpture, video, fiber arts, and performance. Her work has been shown at institutions ranging from the Metropolitan Museum of Art to the Fondation Cartier pour l' Art Contemporain in Paris. Her exhibition Wendy Red Star: The Maniacs (We're Not the Best, But We're Better Than The Rest), which draws inspiration from her father's musical career, is on view through March 18 at New Mexico State University, with NEA support.

Red Star has continued to pass down the family's artistic legacy through her ten-year-old daughter, Beatrice. This mother-daughter duo has been collaborating for four years, and demonstrates what "owning your power" as a Native-American woman looks like. In her own words, Red Star tells the story of her artwork and her culture.

From arts.gov
Duane Slick
Duane Slick is a Meskwaki painter and storyteller, whose visual work includes black-and-white photo-realist paintings on linen and glass. His work has been described as "dream paintings whose aim is the exploration of matters spiritual, not physical." Born in Waterloo, IA, Slick earned his BFA in painting from the University of Northern Iowa and his MFA in painting from the University of California, Davis. He began teaching painting and printmaking at RISD in 1995 and has also lectured at colleges and universities across the US and taught at the Institute of American Indian Arts in Santa Fe, NM. His work has been exhibited widely – most recently at the Albert Merola Gallery in Provincetown, MA and at RK Projects in New York City – and is included in the collections of the National Museum of the American Indian in New York City, the Eiteljorg Museum in Indianapolis, and the De Cordova Museum in Lincoln, MA, among many others. Slick is currently represented by the Albert Merola Gallery in Provincetown.

From matrixpress.org
Merritt Johnson
Merritt Johnson is a multidisciplinary artist who incorporates performance into her practice in addition to painting, sculpture, and video. She is of mixed Kanienkehaka (Mohawk), Blackfoot, Irish and Swedish heritage. In a recent interview, Johnson said performance art is more about being than creating. She notes that once a painting is created, it becomes separate from her and takes on its own life, but performance art is about "presence." And not just being present. "Performing allows us to reflect on the past and the present and be on the edge of the future," she explained.

From arts.gov
Teri Greeves
Enrolled with the Kiowa Tribe of Oklahoma, Teri Greeves began beading at eight years old. After growing up on the Wind River Reservation in Wyoming where her mother ran a trading post, she eventually graduated from UC Santa Cruz. Greeves began her career as a beadwork artist after winning Best of Show at Santa Fe Indian Market in 1999. She has won awards and honors at Indian Market, the Heard Museum and, in 2003, she received the Dobkin Fellow at the School of American Research.  In 2009 she was featured in the PBS television series, Craft in America and in 2016 she was selected as the USA Distinguished Fellow in Traditional Arts.  

Her work has been exhibited in Changing Hands 2 at the Museum of Art and Design; at the Brooklyn Art Museum's Tipi: Heritage of the Great Plains; in State of the Art at the Crystal Bridges Museum; and recently in Native Fashion Now at the Peabody Essex Museum. Greeves' work is also included in the collections of the Smithsonian's National Museum of the American Indian, the British Museum, the Heard Museum, the Brooklyn Art Museum, the Museum of Arts and Design and the Portland Art Museum among others. Greeves lives with her husband and two sons in Santa Fe, NM.

From indigeniousarts.as.virginia.edu
I hope you guys like the introduction of Native American artists that are making an impact. More to come tomorrow. Enjoy your Monday, be blessed. 
Featured and other images: Vogue, Wikipedia, walkerart.org, Brooklyn Rail, Brooklyn Museum, arts.gov, creativethresholds.com, NetWorks Rhode Island, albertmerolgallery.com, Fresno State News, nortartomatic.comwordpress.com, cooolculturegram.org, State of the Art, Mellon Indigenous Art Program-University of Virginia, and Joslyn Museum