January 19 / 18
Friday, Friday, Friday! I've been busy getting this post put together. Instead of one city, I'm combining two. Dallas and Fort Worth, Texas. Here are some great cultural activities you can do if you decided to visit these two neighboring cities.
---
Credit source: Visit Dallas & Fort Worth.com
Dallas
ART & CULTURAL 
DMA PRESENTS THE KEIR COLLECTION OF ISLAMIC ART GALLERY / 
JAN 
19
–
APR 
16 / Next: Tomorrow 10:00 am – 6:00 pm
SCULPTING NATURE: JADE FROM THE COLLECTION / 
JAN 
19
–
MAR 
10 / Next: Tomorrow 10:00 am – 9:00 pm
SIGHTINGS: NAIRY BAGHRAMIAN / 
MAR 
10
–
JUL 
08 / Next: Mar 10 11:00 am – 5:00 pm
MUSIC EVENTS:
JAZZ JAM SESSION / Jan 
25
–
DEC 
24 / Next: Thu 7:00 pm – 10:00 pm
A NIGHT WITH JANIS JOPLIN / 
JAN 
26 / Next: Jan 26 8:00 pm – 10:00 pm
THE ROBERT E. & JEAN ANN TITUS ART SONG RECITAL SERIES AND THE DALLAS OPERA PRESENT: SOPRANO NADINE SIERRA / 
JAN 
28 / Next: Jan 28 2:00 pm – 3:30 pm
Senior Line Dancing, a free movie screening at the Hope Center, a student art festival at the University of Texas at Dallas, and many more.
Here are a few things you can do in January. Posted by Jamina Tribbett for Visit Dallas
Hang out until midnight at the Dallas Museum of Art during Late Nights at the DMA on Jan. 19 for music, talks, films, gallery tours, kids' activities and more. This month's Late Night activities celebrate the museum's birthday and explore the psychedelic world of Japanese artist, Yayoi Kusama.

 Take the kids on a trip to the Dallas Children's Theater to see "The Very Hungry Caterpillar" show. Watch the illustrations of this beloved children's book leap from the page to the stage in a bright display of color. The show will occur daily between Jan. 19 to Feb. 25.

Head to East Dallas for the KidFilm Festival at the Angelika Film Center and Café on Jan. 20-21. This two-day lineup of new and classic films for both children and adults also features special guests, readalongs and other fun activities. The tickets are completely free and available at the KidFilm box office one hour before each showtime.

Stop by the Nasher Sculpture Center to see "The Dramastics: A Punk Rock Victory Twister in Texas" exhibit, on display until Jan. 28. The elaborate scenes, made completely of paper and wire, depict the rise of a fictional punk rock band. It's a display you must see for yourself.
Want to know what else you can do in Dallas? Go to www.visitdallas.com.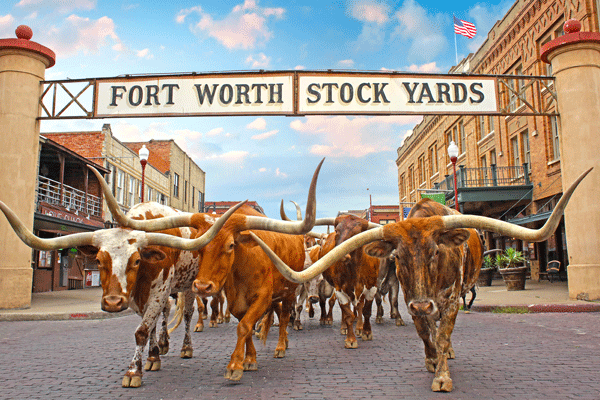 Fort Worth
ART & CULTURAL
AMON CARTER MUSEUM OF AMERICAN ART – A NEW AMERICAN SCULPTURE, 1914-1945: LACHAISE, LAURENT, NADELMAN AND ZORACH /
February 17, 2017 – May 13, 2018

Recurring daily
CITY SYMPHONY | GROUP EXHIBITION /Opening Reception | February 8, 2018 | 5pm to 8pm |
Exhibition on Display | February 8 – March 17, 2018 |
MUSIC  & OTHER EVENTS
JUBILEE THEATRE – DETROIT '67 /
December 16, 2017 – February 25, 2018

Recurring weekly on Sunday, Thursday, Friday, Saturday
LOOSEN THE BIBLE BELT /
How about the doing a little dancing at the Fort Worth Symphony Orchestra, view some artwork on The Dewey Street Bridge or a variety of Western art at the Will Rodger Memorial Center.
Go to http://www.fortworth.com to gather more information. You can get a kick out of both cities for great art, music, and other events. If you plan on visiting, I hope this was helpful to you.
Image source: Wikipedia, Photohome.com, Dallas Hot Spots, www.fortworth.com, & Downtown Fort Worth